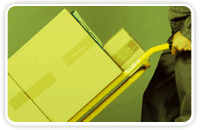 Distribution
Wasaet offers full-service delivery including drop shipping directly to end user(s) using FedEx, GH, and other land-express shipping services. We also offer inventory warehousing for future distribution.

Pickup and Delivery
We have built our niche in this market around fast and accurate delivery of customer CDs and DVDs. Pickup of originals can be done by delivery or pickup locally, FedEx, or nationally using our account. Our rates for FedEx are some of the best in the country due to the volume of packages we send out every week. Another choice is through electronic ftp transfers.

Deliveries can be made by pickup, local delivery, FedEx. We can also ship orders blind to final customers.