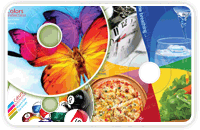 Wasaet offers a variety of design services including graphic design, flash design and print design. Our graphic artists are skilled in creating the highest quality designs for your CD cover, DVD cover, business cards, posters, flyers, website, etc. Our graphic design services will ensure that you have that professional quality look to your project. Our high-quality designs are great for the advertising and promotion for your brand.

Need your poster printed? Need a design for your CD packaging or DVD packaging? Come see us. Wasaet is not just a disc replication company. We specialize in graphic design, CD packaging/DVD packaging, and printing services as well. We use a high quality digital printer for posters, flyers, postcards, CD/DVD inserts, traycards and more. In addition, our highly skilled designers make sure that your product will be printed at or above your standards. If you don't have an artwork for your CD/DVD project, we can design it for you. We provide full CD printing and DVD printing services such as offset printing, digital printing, promotions, and print production.

All above services are produced and implemented through our Graphics Department at our sister company: The Consultants.