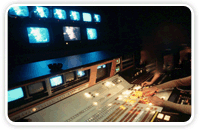 Wasaet offers you the latest in production ability from the design of your interactive CD to the replication and printing, and we handle everything in between. Work with our artists and developers to find the right strategy and approach for your important project, all the way to the content on your printed CD sleeves.

Our wide array of resources can guarantee you a professional and satisfying multimedia product that will impress your customers as much as inform them. Whether you take advantage of our template-based CD products, or maybe opt to push the envelope and create a customized and unique experience for your customers, Wasaet has the tools to get the job done.

Do you have old VHS tapes or 8mm film that you wish was up to date? Well with our video conversion services you no longer need to worry about loosing important memories or not being able to watch some of your favorite videos. We can convert most video formats to DVD using our video conversion techniques. In addition we also offer full service video production if you have needs ranging anywhere from a corporate information or educational video, to broadcast-quality TV commercial production and placement. Call or email us today to find out what we can do to help make your business successful.